#StopCommonCore #StopCC #StopHR5 #StopECAA

Reaching 0 Twitter Timelines
via the conservative voice of 0 united Twitter users
YOU MADE YOUR VOICES HEARD . . . BUT
The Senate Passed the Every Child Achieves Act
Check Back Again for Complete Analysis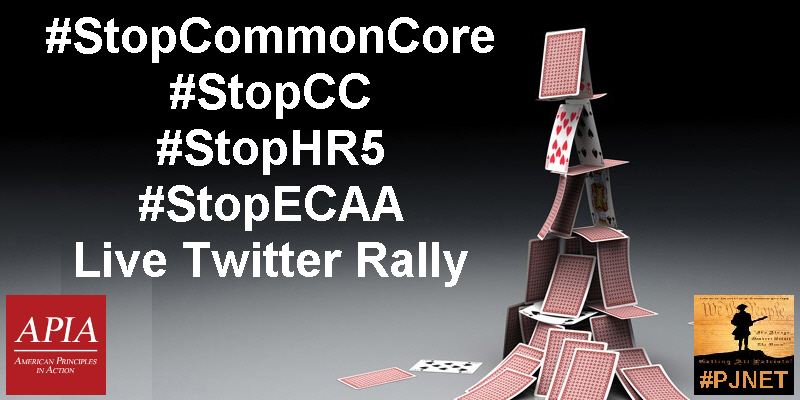 #StopCommonCore
#StopCC
#StopHR5
#StopECAA

---
Join Like-Minded Twitter Users in Live Chat
50 hard hitting #StopCommonCore Featured Tweet buttons
Informative & Entertaining YouTube Videos
Team Tweeting - your tweets from the rally get RT'd by other participants
Fun & Fellowship - make new friends
#PJNET's live hashtag rallies have a proven track record of generating 1000's of tweets with a consistent message. During the live event, we harvest 50 top #StopCCAL tweets and present them in easy to use Tweet buttons with the tweet text
already filled in and ready for you to tweet
. All you do is click the tweet buttons to dispatch the tweet for yourself - adding your voice to the #StopCCAL Twitter choir!
But there's more! Each tweet button has an "RT" icon next to it that will list
every tweet from those who have participated
. All you do is go down the line and retweet others who have participated. It snowballs fast when everyone is supporting one another with retweets.